El protagonista de This Must Be The Place es una estrella del rock retirada del mundo que se aburre tantísimo que parece que está deprimido. Hay que aburrirse mucho para eso.
Lleva 3 décadas sin hablarse con su padre, pero se ve obligado a romper el bloqueo porque su padre está en el lecho de muerte. Por desgracia llega tarde. Y hasta ahí puedo leer porque si no me váis a decir que siempre estoy con lo mismo, que si los nazis y que si esto y que si lo otro.
La película es una gozada para la vista y para el oído (llevo 3 días vuelta y vuelta con la banda sonora) por lo bien puesta que está la música en los sitios donde está puesta.
Es una de esas películas donde parece que no pasa nada, que van entrando en materia despacito y sin ponerlo demasiado fácil. Como es bonita de ver y la guarnición es buena va pasando bien.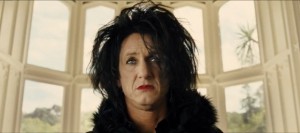 Y sí, Sean Penn es un actorazo.